.:: Moran Raceway reaches the end of the road - For Immediate Release - 05/16/06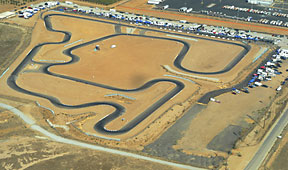 The end of a very special era is coming to a close for the famed, Moran Raceway, Southern California's premier kart track. In just 3 years of operation, the 1-mile super-circuit, created by Rocky Moran Sr. and Jr. has gained the praise and adoration of kart racers from across the world, many heralding it as the greatest kart track ever. Designed by Rocky Moran Sr. and Rocky Moran Jr., Moran Raceway is the only kart track to date that utilizes a road course design, spreading out over 23 acres, with 17 corners, 20 feet of elevation change and one of the longest straight-away's in the country. Since its grand opening in June 2003, Moran Raceway has seen some of the most epic on-track battles in modern day karting. Many prestigious clubs and racing series, including Tri-C Karters, San Diego Karters, Rotax Max Challenge, I.K.F Region 7, Pro-Kart Challenge, and Stars of Karting have made their stops at the "Full Wood Kingdom". Some track highlights include hosting the 2003 Stars of Karting Finale, the 2003 & 2004 California State Championships, and the I.K.F Grand Nationals in 2005. The track also gained recognition from the C.I.K./F.I.A., being placed on the world calendar in 2004. As the legend spread, many top Indy Car, Champcar, Nascar, and Formula One drivers made there way to the track. Moran Raceway has helped advance the sport of karting with shows on Speed Channel, MTV, Fuel TV, The Outdoor Channel and many other reality shows and commercials. Since December of 2003 Moran Raceway has graduated over a thousand newcomers to the sport through racing schools, corporate events, group parties, and kart rentals. Multiple celebrities, sports figures, and large national corporations were exposed to karting through Moran Raceway. Most importanly, many fun times and special memories were created at Moran Raceway over the brief life of the track as the karting community has flocked to the facility.
Due to the sale of the property to a large national developer, Moran Raceway is set to close sometime during the summer of 2006, reaching its final chapter. "I think we realize the void that this will leave for ourselves, our staff and most importantly for the karting community in Southern California. The sale of Moran Raceway has been one of those rumors that have been circulating for a while now and sadly, the rumor is true. We didn't want to make any announcements until we knew for sure that there was a time frame for our closure," said Rocky Moran Jr. "From the time we built the track, we knew that one day we would sell the land once it had appreciated to a certain point. We just didn't think it would come this soon! It really is a bittersweet deal for us," said Rocky Moran Sr. "I can't say how much we've loved running this business since the day we opened, the response from the entire karting community has been overwhelming. It's really been a dream job for me as it's been a business that both my Dad and I have shared together and karting is a sport that we both have a deep love for. The track is such a unique and special place that we've invested so much time and energy into, so were really going to miss this place," said Rocky Moran Jr. "Right now we are set to close our gates sometime between July 1st and the end of September, the final closing date will be dictated by the needs of the new land owner. We will definitely keep the karting community posted with the exact closing date as newer information develops. Logistically, it is going to be a headache as we have an entire facility that needs to be deconstructed in a short amount of time," said Rocky Moran Sr.
The good news for Southern California karters is that the Moran's may not be finished with kart track ownership just yet. Over the past few years the Moran's have built a solid business model that continues to grow. "We've assembled an excellent staff of professional instructors, mechanics and track managers that are well adapted to the environment. In addition to the open practice and racer market, we've also developed an extensive customer base through our driving programs offered throughout the week, year round. The business model took a while to get going but once it did, it worked, and it proves that we can justify doing this again," said Rocky Moran Sr. "We realize the need for a state-of-art karting facility in our area and if we can make this happen again, we would like to do something on a similar scale. We will do everything possible in searching for another location to build a second Moran Raceway, there are several hurdles in building race tracks but I feel it's something we can accomplish with enough hard work and some blessing from above. We will keep the karting community posted with our progress as we move forward into the future," said Rocky Moran Jr.
Moran Raceway would like to thank the entire karting community and especially the So-Cal "weekend warriors" that have come out to support the track since our opening. We'd also like to thank our track partners and sponsors which include the City of Beaumont, Tri-C karters, Empire Karts, King Taco, Top-Kart, Ribtect, Burris, and all the racing series that have been with us since the beginning.
Scheduled for release by 2007 is an online-gaming karting simulator, which will feature Moran Raceway as one of the few kart tracks available for play. Other than this karting simulator and maybe some old data acquisition, the best way to remember the track is to drive it now. If there was ever a time to take advantage of Moran Raceway, the time is now! There is only so much time available for weekend practice and racing events so come out and give the track a few more runs before it's all over. Currently, the Moran Raceway track schedule will remain the same with driving programs, including racing schools, kart rentals, and group parties on Tuesdays, Thursdays, and Saturdays between 9-1 and open practice 7 days a week. Moran Raceway is currently scheduling as many "finale" races as possible for the upcoming weeks so please stay tuned to the live calendar at moranraceway.com or call the track at 951 522 9302 for an updated schedule of events.