Welcome to Moran Raceway!
Welcome to Moran Raceway, North America's finest karting circuit. Also known as the "Full Wood Kingdom", Moran Raceway hosts the largest and most professional driving programs and race events in the country.



| | |
| --- | --- |
| | Moran Raceway provides the absolute best in corporate and group events, racing schools and kart rental programs. Our state of the art facility lies at the base of the beautiful San Gorgonio mountains with a prime location in the heart of Southern California. Karting is one of the most exciting, unique and fastest growing sports in the U.S. Visit Moran Raceway and see why! |
.:: latest news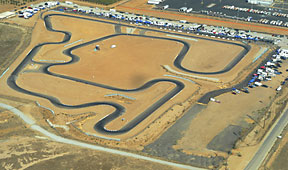 .:: Moran Raceway reaches the end of the road - For Immediate Release
The end of a very special era is coming to a close for the famed Moran Raceway, Southern California's premier kart track. In just 3 years of operation, the 1-mile super-circuit, created by Rocky Moran Sr. and Jr. has gained the praise and adoration of kart racers from across the world, many heralding it as the greatest kart track ever.
READ THE COMPLETE PRESS RELEASE HERE>>>
.:: Vicious crash for Rocky Moran, Jr. ends GAINSCO team's day at Long Beach
Long Beach, CA - April 12, 2006. After a strong start that saw Rocky Moran, Jr. move the No. 99 GAINSCO Auto Insurance/King Taco Pontiac Riley up three positions early on from eighth on the grid at Saturday's Crown Royal Grand American Challenge on the streets of Long Beach, a 150-mph multi-car crash on Lap 11 sent Moran, Jr. to a local hospital with minor injuries and put an end to GAINSCO/Blackhawk Racing's quest for its first Grand-Am victory. Complete story >>


.:: OLDER NEWS
Older news are still available here.
You are visitor number


since December 2003