.:: NEW TO KARTING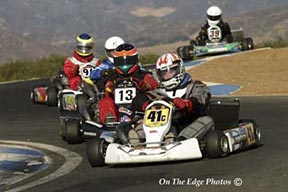 .:: An overview of Karting
Karting is the fastest growing form of motor sports in the U.S. and is already hugely popular around the world. There are about 100,000 karters in the United States alone, encompassing all age groups, from children as young as five years, all the way to seasoned participants, even well into retirement age. The sport sees competitors of both genders and is truly something for the whole family to enjoy.
While many might participate out of pure enjoyment, because it is relatively affordable, it is a perfect venue for learning the basics about competition racing, car control, team work, setup, engine tuning, and much more. All of this while having a whole lot of fun. No other racing vehicle will allow you to get as much seat time for a given budget as a kart!
.:: Understanding the karts
The beauty of karting is the seemingly simple nature of these vehicles: No suspension, no differential, no roll-bars, no seat-belt systems. Just four wheels and an engine. This simplicity is exactly what keeps the cost of karting down compared to other forms of motor racing. It also makes it easier for the beginner to comprehend the vehicle in its totality and to identify the components that may be adjusted or tuned for optimum performance.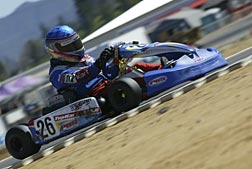 Specifically designed, purpose built, race karts are extremely responsive and agile vehicles, not at all comparable to fun karts you may find at fairs or other rental venues. They provide amazing handling and cornering capabilities and propel the driver around the race track, just a few centimeters above the ground. Being successful in the top levels of kart racing requires the same peak physical condition, and mental strength as other forms of racing.
.:: The best way to get started
Moran Raceway's driving programs are the best way to get a proper introduction to karting. Whether it's a corporate or group event, a racing school, or even a rental, all our programs are excellent for exposing new participants to the thrill of karting in a safe and organized method. Our programs are also the best way for someone to identify their goals and explore the different options in karting before making a large investment. Whether the goal is to own a kart and recreationaly practice at the track or to figure out the best way to get started in racing, our staff will be happy to explain the best options in full detail.
.:: Closing words
When one combines the amazing and exciting driving characteristics with the fun and friendly atmosphere at the race track, it's no wonder why karting is growing so fast. Moran Raceway is simply the best track for anyone seeking to get involved with karting. It is the newest, largest, and most heavily raced kart track in the United States. Moran Raceway is also conveniently located in the heart of Southern California where karting programs continue year round. Give us a call or stop by the track and check out what karting is all about for yourself!